My boy had an awesome time away on his 3-day school trip! I
missed him a lot
when he was away... so I was quite happy when Wednesday afternoon finally rolled around. He brought a camera with him and took some amazing nature photos! Here are some of them, all raw and unedited... straight from the camera:
Self-portrait! :-)
And here is his class, upon arrival at the school, forming a human chain to unload their luggage!
As I continue my hunt for grace-gifts... these are the things I am thankful for this week... #1260 - #1266:
:: My boy had a great time on his first ever overnight trip without us!
:: Excited about a few
Local Compassion Initiatives
that I'm working on for our church family to participate in these next few months.
:: My girl working hard to prep for piano and theory exams.
:: Hubby's doctor being careful and doing some additional tests.
:: Holding a brand-new baby!
:: A friend got baptized.
:: Finally... snow on the ground!
Happy Monday, friends!
May this new week be amazing... because we serve an awesome and great God!
Gift List. That is the beginning and I smile. I can't believe how I smile. I mean, they are just the common and maybe I don't even know they are gifts really, until I write them down and that is really what they look like. Gifts He bestows.
Click on the banner below for more
Multitudes on Mondays
posts...
Jump in... I promise you will be blessed!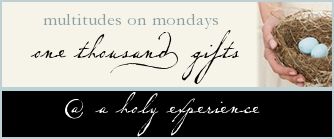 Unwrapping more of His love in this world.
Act justly. Love mercy. Walk humbly with God!