Grace and peace... always spoken together, as a blessing... in Scripture. Here is one of many verses...
Grace and peace be yours in abundance through the knowledge of God and of Jesus our Lord.

(2 Peter 1:2, NIV1984)
This past week, I was hit with a wave of un-thankfulness... focusing on disappointments instead of grace-gifts... an amnesia of sorts... and I quickly realize that without the contemplating of grace... peace quickly disappears.
I was also reminded of these verses... about the fight that we, as Christ-followers, must face each day... one that we must fight well and win, with God's help...
Put on all the armor that God gives, so you can defend yourself against the devil's tricks. We are not fighting against humans. We are fighting against forces and authorities and against rulers of darkness and powers in the spiritual world. So put on all the armor that God gives. Then when that evil day comes, you will be able to defend yourself. And when the battle is over, you will still be standing firm.

(Ephesians 6:11-13, CEV)
The full armour of God... that's what I need to put on... again and again, each and every day... each and every moment. I am thankful that my Heavenly Father is gracious enough for re-starts... His mercies new every morning, His faithfulness so great!
So, this week... I will
focus on contemplating grace
... on
celebrating Advent
. Here are some highlights of my Advent readings so far:
Day 1: Joy to the world, the Lord is come. Let earth receive her King!
Day 2: The essence of being a Christian is placing all our hope in God, knowing we can trust him to fulfill all his promises --- even the ones that haven't been fulfilled yet. We are willing to wait, trusting that "God's way is perfect. All the Lord's promises prove true." (Psalm 18:30)
Day 3: "I am blessed. I can bless. So this is happiness." During this season of Advent, be a blessing to someone in need... celebrate Christmas radically, the way Jesus would want us to.
Day 4: I am blessed. I can bless. A life contemplating the blessings of Christ becomes a life acting the love of Christ.
Day 5: Like your people of old, we are waiting for you, God, to fulfill all your promises. And because we remember how you fulfilled your promise to send Jesus, we know that you will fulfill all your promises to us.

Day 6: Joy is the startling realization that God has claimed territory in this world. He has taken back what belongs to him. Every day, we can remind ourselves of this revelation: reignite this joy again and again. Joy is a thirst that doesn't want to be quenched; a hunger that knows it will go on and on. It's a good thing, to never get enough of God.
Day 7: When we discover the Christmas shalom --- the confidence that when God's favor, his undeserved grace, rests on us, we will know a peace that goes beyond understanding. The peace gifted to us because Christ came into the world and put things in order, beginning with his birth, and completed in his sacrificial death and triumphant resurrection.
Day 8: Dear Lord, I have so much and I am surrounded by people who have so little. Show me someone I can help this Christmas. Open the eyes of my heart to see the needs of others. Make me an extension of Your lavish love. In Jesus' Name, amen.
Day 9: Christmas is about a message. It is a gospel, good news. The best news. The message transformed humankind - and we have never been the same.
And I will continue to
contemplate grace
by counting grace-gifts... #1144 - #1153:
:: Visiting a
Home Church
to present compassion initiatives.
:: A new laptop from work... a much-needed upgrade!
:: My girl doing the
Vow of Silence
.
:: Writing our year-end family newsletter.
:: Starting some Christmas shopping.
:: Cementing plans for our church to provide grocery gift cards to needy families.
:: A Christmas concert to kick-start the festive season.
:: Toys, toys and more toys --- toy drive for
UrbanPromise
going extremely well!
:: My family...
:: That God allows re-starts.
Click on the banner below for more
Multitudes on Mondays
posts...
Jump in... I promise you will be blessed!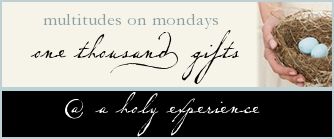 Unwrapping more of His love in this world.
Act justly. Love mercy. Walk humbly with God!