Exactly one week to go before
we board that airplane to the Philippines
! We are packing, shopping, packing some more, wrapping up work, very excited... you get the picture!
And, I am anxious... and,
Praying. A. Lot!
The planner in me is anxious about the many unknowns, the many things that are beyond my control. At this time, I am truly thankful...
truly thankful
for prayer partners.
(#811)
I am also anxious about my response... our response.
How will our family respond
to what we will see when we visit our
Compassion
sponsor child and her family? How will it change us? How will we handle it?
So many questions, so full of anticipation...
But I know God is in the details.
I am tickled pink by His attention to details.
As most of you know, I recently
became a Volunteer Advocate for Compassion Canada
. Now, the planner in me totally
did not
plan for that to happen... it was totally a God-thing! In fact, I am still wondering why He would choose me for a role such as this? If you know me in real life, you'd know that I am more of a task-oriented person than a people-person... sooooo, how in the world would I be one
to connect with people in order to find sponsors for needy children around the world
?
All I know is that I want to live life...
as a daughter of the Resurrection
; to act justly, to love mercy and to walk humbly with God. To be an empty vessel... ready to be filled by Him.
Speaking of which... yesterday was my phone training day with the Advocate Representative at Compassion Canada. When we got to the pages in my Advocate Network Binder that outlines the
Leadership Development Program
(LDP), I asked my trainer if one could pick out a student from Compassion's website. She said: "Yes, but there might not be any assigned to Canada right now."
We proceeded to click towards the section in the website, just to show me where to find it, not expecting to see any LDP candidates currently listed. To our surprise, there were a few! And to both our amazement, there was a young lady from the Philippines waiting to be sponsored.
This is where I get ticked pink by God's attention to details...
You see, the thought of sponsoring an LDP student has crossed my mind before. Well, I'm sure God put that idea in my thoughts! ;-) But, the cost deterred me... $330.00/month! So... I said to myself: "Well, if we are to sponsor an LDP student, he or she would have to be hand-picked by God. I wouldn't just randomly pick anyone from the website!"
You know God... He doesn't turn down a challenge! ;-)
You know that LDP candidate on the website, the young lady from the Philippines? Well, I clicked on her profile and my jaw quickly dropped. She is enrolled in the very same university that my hubby graduated from! We would be in the very same city two weeks from now! How's that for "hand-picked by God?" What do you say?!?
I was floored. A flurry of thoughts ran through my brain... I asked my trainer if it would be possible for us to meet this young lady in order for us to get to know her on a personal level. Why yes! It is possible. As I type this blog post, an email has been sent to arrange such a meeting for us!
I don't know how all this will pan out... whether we will end up sponsoring this young lady or not. Time will tell. What I do know is that God
IS
in the details of this missions immersion trip that our family is embarking on. So exciting...
Also, I am being sent a couple child packs (profile information) of Filipino Compassion children that are still awaiting sponsorship. These are children who live close to our own Compassion child so there is a chance that I will get to meet these children as well.
Would you like to sponsor one of these children?
It would be so cool for me to meet them and tell them in person that I have found sponsors for them! Be sure
to let me know
if you are interested!!!
So... back to how I started this blog post, my anxious heart. God's timing sure is perfect. I should know that by now already! Yesterday, in my Google Reader is this blog post by Ann Voskamp... on the root of some fears:
Just bow in humility to rise up in courage.
Bow in humility...
It's only pride's hunger for perfection that paralyzes a heart, keeps us enslaved to fear.
Courage for the impossible can only be found in the possibility of humility...
To bow in humility, it is the cry of my heart this day... as it is written in Isaiah 66:2, "These are the ones I look on with favor: those who are humble and contrite in spirit, and who tremble at my word." Also in Psalm 25:9, "He guides the humble in what is right and teaches them His way."
Click on the banner below to read more Walk With Him posts every Wednesday...
I promise you will be blessed!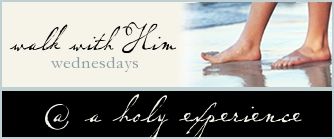 Unwrapping more of His love in this world.
Act justly. Love mercy. Walk humbly with God!