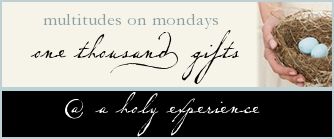 We are His portion. And He is our prize. Drawn to redemption by the grace in His eyes. If grace is an ocean we're all sinking...




~ from the song "How He Loves" by John Mark McMillan.
With a grateful heart for this ocean of grace...
#645 - #676
~ Spring rains and birdsong on a Monday morning.
~ Peace and quiet; a
reflective mood.
~ The heart warming stories in this book, and...
~ Lost: One Green Scarf, my friend's story... published in this book.
~ Life lessons and letting go of everything that hinders.
~ God's beckoning of us... always onwards.
~ His comfort when days are dreary.
~ His provision... it overflows!
~ Warm blanket for cold, rainy nights.
~ Yummy shepherd's pie for dinner.
~ A grocer nearby where I can get missing ingredients quickly.
~ Open windows and the sounds of nature... ahhh, Spring!
~ Back and forth chirping of nesting robins.
~ Canada geese calling.
~ Sound of gentle breeze blowing.
~ Baby leaves hustling in the breeze.
~ Sister chats with Facebook messaging!
~ Sunshine!... after many days without it.
~ Then, evening rain... great for falling asleep!
~ Telling our story.
~ Shopping for food for a BBQ party at Camp Freedom.
~ Helping a friend who's going through a tough season.
~ An after-dinner walk around the neighbourhood.
~ Family visiting... and dinner out!
~ First all-Filipino basketball tournament for my girl.
~ Long weekend!!!

Unwrapping more of His love in this world.
Act justly. Love mercy. Walk humbly with God!