I felt like God was saying that to me this week...
As we reached the two week mark before
Eucharisteo: A Celebration of Joy
happens!
To be quite honest, I had a stressful week... as tickets returned to me unsold. I started to fret, to worry, to be anxious! You know, that thing that comes
oh. so. naturally.
to me --- trying to gain control over a situation that I have absolutely no power over.
Yes, that!
Yet, God is faithful and He truly is always good!
No, He didn't send me an email or a text message or a tweet to say that ticket sales will explode through the roof these last two weeks before the event... but He did say the following to me... via my morning Bible reading time:
So here's what I think: The best thing you can do right now is to finish what you started last year and not let those good intentions grow stale. Your heart's been in the right place all along. You've got what it takes to finish it up, so go to it. Once the commitment is clear, you do what you can, not what you can't. The heart regulates the hands. This isn't so others can take it easy while you sweat it out. No, you're shoulder to shoulder with them all the way, your surplus matching their deficit, their surplus matching your deficit. In the end you come out even. As it is written,
Nothing left over to the one with the most,
Nothing lacking to the one with the least.
God can pour on the blessings in astonishing ways so that you're ready for anything and everything, more than just ready to do what needs to be done. As one psalmist puts it,
He throws caution to the winds,
giving to the needy in reckless abandon.
His right-living, right-giving ways
never run out, never wear out.
This most generous God who gives seed to the farmer that becomes bread for your meals is more than extravagant with you. He gives you something you can then give away, which grows into full-formed lives, robust in God, wealthy in every way, so that you can be generous in every way, producing with us great praise to God.
Carrying out this social relief work involves far more than helping meet the bare needs of poor Christians. It also produces abundant and bountiful thanksgivings to God. This relief offering is a prod to live at your very best, showing your gratitude to God by being openly obedient to the plain meaning of the Message of Christ.
You show your gratitude through your generous offerings to your needy brothers and sisters, and really toward everyone. Meanwhile, moved by the extravagance of God in your lives, they'll respond by praying for you in passionate intercession for whatever you need. Thank God for this gift, his gift. No language can praise it enough!



2 Corinthians 8:10-15 & 9:8-15 (The Message)
Wow... amazing! Just what I needed to hear...
I love how God always has a way to encourage me, to spur me on... just when I'm about to run out of steam and conk out!
Full steam ahead it is... these final two weeks before the event will be full of last-minute details! No matter how many people end up showing up at the event, I know that each one is sent by God. I am not to fret... because He knows what's best and He has everything under control.
What a truly awesome God we serve!
And then, there was the teaching we received on Sunday morning... about how to live everyday full of faith! Talk about a relevant topic, eh? God's really hammering this lesson into my head, don't you think?
Our everyday ordinary life is a gift from God to be lived for God. When in faith we offer all that we have to Him, we participate with Him in His radical mission to bring peace, love and healing to the world.
Two more weeks! Let's do this!
Friends, I believe that together, and with God's help...
Eucharisteo: A Celebration of Joy
can reach its fundraising goal... because He is "able to do immeasurably more than all we ask or imagine, according to His power that is at work within us. (Ephesians 3:20)"
As I continue to count grace-gifts, with unending thanks... for gifts from a God who is always faithful... these are the things I am thankful for this week... #1552 - #1563:
::

Trusting that HE who promised is faithful and that this will bring glory to Him alone...

Eucharisteo: A Celebration of Joy

... happening September 29th, right here in Toronto! It's now just twelve days away, friends!!! Will you come celebrate with us?
:: Those unsold tickets, yes... thankful, even for those!



:: Meeting a caterer friend; her generousity in providing cake to serve during the intermission of Eucharisteo. Yes, friends... there will be cake! :-)
:: Time to actually churn out a couple of blog posts this past week. One of which was a letter to my fifteen-year-old self.
:: Walking around midtown Toronto with hubby, enjoying a cup of Starbucks and window-shopping as we waited for our kids who were at theUnderground.
:: My blog post this week for the Compassion Blog Month project.
:: Fruitful meetings with my son's FIRST Lego League team.
:: A phone meeting with a Compassion Canada staff member to discuss details about the benefit event. Glad to have some details finally ironed out.
:: A great meeting with our Lead Pastor, planning for this new ministry year.
:: Joining in a very informative World Vision Canada live chat where we learned more about the community in Mposa, Malawi from where we sponsor a boy named Moses as part of our church's response to the AIDs situation in Southern Africa!
:: A fairly relaxed weekend.
:: A quiet Sunday evening.
Happy Monday, friends!
This week,
this...
of keeping my eyes on Jesus and not tripping up!
I want to give up too. But give up the joy wrestle... and I die. The emptiness burns the innards dry. This practicing the presence of God, finding the joy well, it is the practice of the eyes and no, God's presence is not the one that needs be practiced, He, omnipresent one, but our corneas, our eyes.
Click on the banner below for more
Multitudes on Mondays
posts...
Jump in... I promise you will be blessed!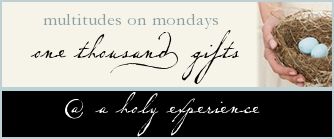 Compassion is a command, an act of worship, a song of thanks to Him.
Do justice. Love mercy. Walk humbly with God!